The quilt below will be raffled off on November 29, 2014. This quilt was designed by Loralie, stitched by Sandy Winters Burnette and donated by the Winters Family.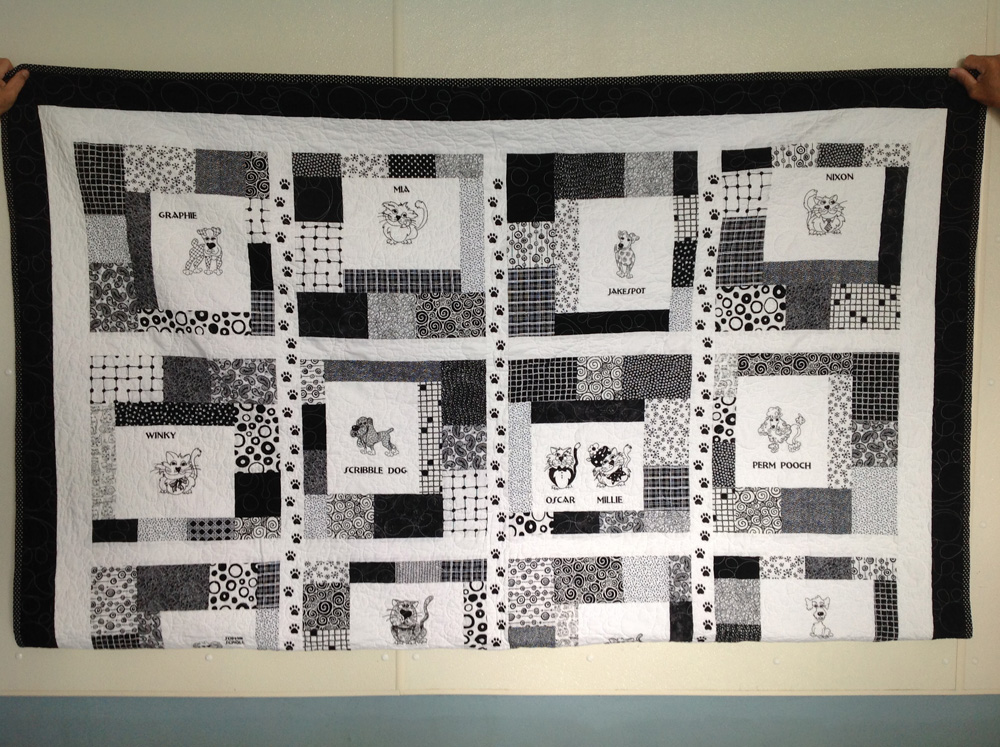 Click to enlarge
You can find more information and the tickets on our
Fundraising Events
page.
---
Dog Obedience Classes
Interested in Dog Obedience Classes? Classes start on September 23rd at the Canton Elementary School Cafeteria. See the
dog obedience flyer
for more information and pricing.
We Can't Save Every One
So We Do What We Can
When We Can
Mission
The mission of the St. Lawrence Valley SPCA is to provide quality care for unwanted animals, alleviate pain and suffering, promote quality adoptions, advocate spay/neuter as the only humane method of pet population control, and to educate the public on humane treatment of all animals.
History
The St. Lawrence County Society for the Prevention of Cruelty to Animals (SPCA) was originally formed by ten directors in February 1910. The incorporation of the St. Lawrence County SPCA was approved by the American Society for the Prevention of Cruelty to Animals (ASPCA) on April 25, 1910 and consented to and approved by the Justice of the Supreme Court 4th Judicial District on May 5, 1910.

The State of New York Department of Taxation and Finance granted the St. Lawrence County SPCA tax-exempt status in May 1971.

The St. Lawrence County SPCA officially became the St. Lawrence Valley SPCA on January 1, 2005. It underwent the official name change to indicate it is not an agency of St. Lawrence County. The St. Lawrence Valley SPCA has contracts with three municipalities for dog control which accounts for approximately one quarter of the yearly budget. The balance is made up of donations and fundraisers.

The SPCA shelter sits on 4.5 acres approximately two miles south of Ogdensburg on State Highway 68. The original building was a garage built in the 1920s. A 20-dog run addition was built in 1977 and in 2004 a new wing replaced the original building.

The St. Lawrence Valley SPCA, Inc. is a non-profit corporation having a 501-C classification as recognized by the IRA. The SPCA employs eight people (2 full-time and 6 part-time) to carry out the daily operation and maintenance of the shelter. Over the past 100 years the SPCA has been very fortunate to have been the recipient of 4.5 acres of land and estates which have been our endowment fund that enables the SPCA to survive tough economic times.